| | |
| --- | --- |
| Address | Nanshan, Longkou, Shandong |
| Website | http://www.nanshangolf.com/ |
| 007 booking hotline | +852 2180 2963 or book-on-line |
| Number of Holes | 18 |
| Par / Length | 72 /7194 yards (Gold Tee) |
| Course Designer | Unknown |
| On Course Transport | Buggy |
Scorecard(1, 2) / Starter / Views(1, 2, 3, 4, 5, 6, 7, 8, 9)
Introduction
This course also opened on September 2006, located at Nanshan area, only 3 minutes from where we stayed.
Club Facilities & Service
Clubhouse(1, 2, 3, 4, 5, 6, 7, 8) is big. Basic facilities such as changing room, proshop, restaurant, coffee shop are equipped. Food is reasonably good. Service of the staff are nice
Fairway & Green maintenance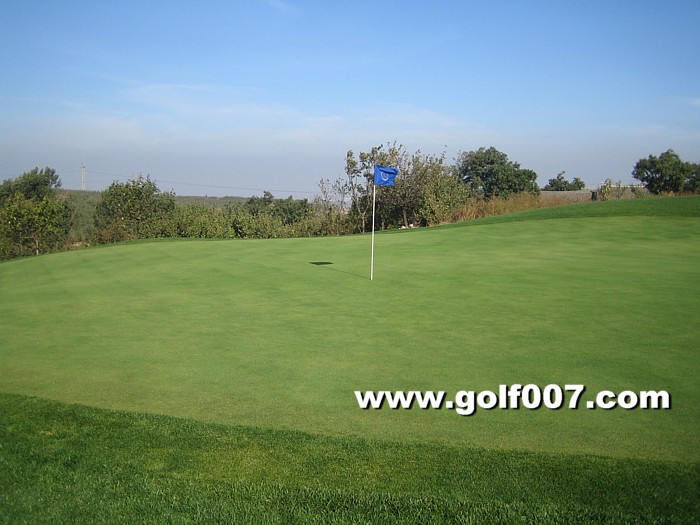 Tip top!! Tees, fairways, greens are almost perfect. Fairways a bit hard with lots of roll.
Caddy Service & knowledge
Caddies just been here for over 2 months, don't expect too much from them.
Course Design

This is a mountain course. Elevation change is hugh and lots of up & downhill. Most fairways are narrow with a good mix of doglegs, island green, long and short holes, blind shot holes, long carry holes. Strong wind is expected throughout the year.
Photos



A tight opening hole, uphill teeshot follow by downhill approaching.




Uphill dogleg right short Par 4, as you seen, the widest landing point need carry 200 yards or more. Severe up slope approaching.


Downhill dogleg left. 200 yards to the right fairway. Too much club will lead to OB. Downhill approaching to a raised green.


Midrange island green


Dogleg left, drive to the end of of fairway then cross a creek to the green.


Uphill Par 3


Toughest test. and quite unreasonable. Teeoff ideally over the first bunker (carry 220 yards), if you dont want to leave yourself a 200+ approaching, play a blind shot over the hill which require 99% accuracy on direction and distance. And pray for the ball land softly and wouldnt roll down the cliff. This fairway no more than 20 yards wide. If you are lucky enough, then shoot to the green


Another scary hole. Apart from the tiny landing area, there is no margin of error for the approaching.


Downhill teeshot, to get the best attack angle to the green, 2nd shot play over the left bunker.


Downhill teeshot to the end of the fairway, cross a gully to the next fairway..


Take a break here, downhill midrange par 3


Tough one again, accurate teeshot plus no rolling is a must. 2nd shot uphill severely.


The landing area is much wider than you see, uphill approaching.


Long Par 4, dogleg right, downhill teeshot and uphill approaching.


Fairly easy downhill short Par 4


Super long Par 4, uphill from the 2nd shot.


Downhill par 3


A tough downhill Par 5, tight fairway with pond and stream cut across.

007's Rating
This is a tough course with very tight fairways, long carries & big elevation change. This surely is one of the most challenging course I played may be a little unfair, take a look to Hole 7, the second shot are expected to land and stop at a no more than 20 yards wide fairway. The 6300 yards from the white is already too much for a leisure golfer, not to mention the 6700 yards blue.
Well done to the maintainence team, the course is in perfect shape. Adequate club facilties, good service from their staffs, inexpensive & good food.
Location Map
Course Difficulty (White Tee):